Types of Training: General Oral | Government Oral | Legal | Medical | Political | Entertainment
| | |
| --- | --- |
| Our training focuses, particularly, on developing the skills of non-professional speakers who are thrust into presentation roles with limited or no previous experience. We have worked with an array of people: CEO's, executives, engineers, IT professionals, attorneys, accountants, doctors, nurses, sales and marketing professionals, politicians, small business owners and talent for the entertainment industry. Our trainers integrate a variety of creative training and staging techniques into our work with the key personnel involved. This results in a high degree of excellence and professionalism in the overall presentation. Our principal philosophy is "to humanize the oral presentation and unveil the passion in each individual presenter". | |




Team Building Proposal Development Remote Coach

We offer one-on-one and group training sessions in the following training areas: storyboarding, visualization, vocal training and verbal communications, relaxation and breathing techniques, movement, team dynamics, flow, timing, media and environmental staging, multimedia production, interview techniques, mock question and answer, internal executive review preparation, image/personality development, motivational support and self esteem. All sessions include video taping, playback and analysis.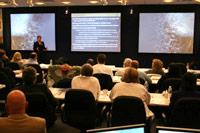 Government Oral Presentations:
Oral presentations have become the principal evaluation process for awarding government contracts. Inside Moves is a proven oral presentation specialist for government proposals. Since our founding in 1994, we have helped win over $14 billion and maintained an 85% win rate. Our success has been built on partnering with great teams from American Express, AMSEC, AT&T, BDM Federal, EG&G, Lockheed Martin, Lucent Technologies, SAIC, Symbol Technologies, and TRW. Great teams have great teammates. Inside Moves has also worked with key personnel from companies like Oracle, IBM, CISCO, Boeing, Aerojet, GTE, Sprint Paranet, Microsoft, the Baby Bells, Ameritech, and Bell Labs. We have worked on over 100 oral proposals to almost every department of government including DOD, DOE, SEC, DOT, FBI, CIA, FAA, and all branches of the military. We have trained in excess of 1000 individual presenters in preparing their oral presentations to the government.

Legal:
Prepare your clients for the witness stand. Improve overall presentation skills and etiquette in the courtroom. Learn to capitalize on Imagery, Emotion, Trust, Confidence, and Logic.

Medical:
Communicate more effectively at product symposiums and educational clinics. Get graphics support for your presentations. Learn how to communicate highly technical information in more interesting ways. Keep your audience's attention. Overcome the "boring lecture" syndrome. Increase sales of products.
| | |
| --- | --- |
| Learn to master dynamic communications skills for electronic, print, and broadcast media. Be more effective at Town Hall meetings, television and radio interviews and debates. Develop a more natural and believable delivery. Learn supportive movement and gestures. Articulate important information using laser communication. Win over your potential voters' trust and confidence. | |
| | |
| --- | --- |
| | Inside Moves can also provide professional training in film, television, radio and stage. Each of these media requires specialized skills for the student seeking to work in one or more of these areas. Individual and classroom instruction is available. Video taping, audio recording, playback and analysis are used throughout the training to give participants immediate feedback of their work. Our instructors are working professionals and active members of the Actors Equity Association (AEA), Screen Actors Guild (SAG) and American Federation of Television and Radio Artists (AFTRA). Ideal for politicians, sports celebrities, or the aspiring actor. |